Our Strength - Your Comfort
'Be Gone' Freedom
Cycle.
Along the Lahntal,

as you like.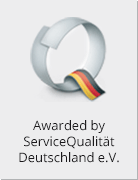 Have a picnic and a nap.
Do what ever you want.
Be relaxed and simply enjoy.
While we will take care
of your luggage and accommodation.
And make sure
there is a cold drink waiting for you
at the end of a wonderful day.
The 'No Worries' Freedom
You can put your trust in us. We work together with more than 70 cyclist/hiker friendly hotels and hospitality businesses. Our partner hotels are charming country inns with regional cuisine and comfortable mid-range city hotels. All of them have dry rooms for your equipment and lockable parking spots for your bike.
Due to the experience of over 30 years at and on the Lahn, being awarded by ServiceQualität Deutschland, having the expertise of a regionally-based tour operator who knows all tours and hotels from personal experience and owns a comprehensive service fleet, we are the right partner for group and individual tours.
With our well spread branch network in the Lahntal you will always find a competent person to contact on the Lahntalradweg. We have stations in Roth near Marburg, Wetzlar, Solms, Aumenau, and Runkel. The Lahntalradweg was awarded 4 stars by the Allgemeinen Deutschen Fahrradclub (German cycle association) and was voted one of the 10 most popular cycle routes in Germany.