A weekend getaway in Bad Ems
Enjoy beautiful views on the walk from Bad Ems to Lahnstein and be stunned by the beauty of the Ruppertsklamm, a 2 km long gorge in a small side valley of the Lahn near Lahnstein. The Rheinsteig trail on the East of the Rhine goes through the Ruppertsklamm, as well as the Rheinburgenweg and the Lahnwanderweg (both trails) that provide you with a scenic view of Lahneck Castle and into the Lahn valley. Back in Bad Ems you enjoy a spa treatment in the Emser Therme, which is among the most modern and attractive thermal spas in Germany. The spa is situated directly next to the Lahn and has since Summer 2013 a very special highlight: A river sauna in the Lahn with 2 saunas and a relaxation room.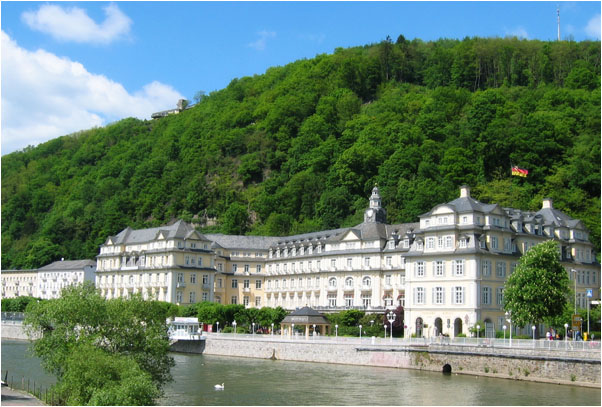 1st day:
Arrival in Bad Ems. Hike to the Baedekers Felsenweg (trail) via the Bäderlei (rock formation) past the Heinzelmannshöhlen (caves) reaching the Concordiaturm (tower) and return (approx. 6.5 km).
2nd day:
Walk from Bad Ems over the promenade and continue along the Lahn past Fachbach (here the best Lahn wine was cultivated and pressed at the beginning of the 19th century) to Lahnstein (16.5 km). From Fachbach you climb the hills to pass a stunning panoramic section. Through sparse pine forests you can already spot the destination of the day, the unmistakable yellow plastered Stolzenfels Castle in the Rhine Valley, before reaching the entrance of the Ruppertsklamm. The Ruppertsklamm is a 2km long gorge that is part of the Rheinsteig and the Lahnhöhenweg (trails) and is considered one of the highlights of these long-distance trails. The trail goes over bridges and walkways and some sections are secured with thick ropes. After that the tour continues to Lahnstein, from there the return is done by train. The evening you can enjoy a bit of wellness in the Bad Emser Therme and let the day's experiences pass by.
3rd day:
Walk in the Mediterranean flair of the famous spa town with its resort architecture.
Our Services:
2 nights in pre-booked hotels in a double room with en-suite
Breakfast
Maps + information material
Entrance fees on request
Ehildren's discount on request (depending on accommodation and guide option)
Price:
per person (min. 2 people): €149