The Lahn,
the peaceful dream of nature
The Lahntal is one of the most popular river valleys in Germany.
You can experience the scenic Lahntal with Lahntours-Aktivreisen Gmbh by canoe, bicycle or on a hike. The river is from Roth near Marburg until Lahnstein on more than 160km accessible by canoe. The continuous Lahntalradweg (bike trail) takes you on over 245km from the spring to the river mouth. The same can be discovered via the Lahnwanderweg (hiking trail) on 288km. The high demand and a nationwide study has confirmed that the Lahn is the most popular canoe river in Germany.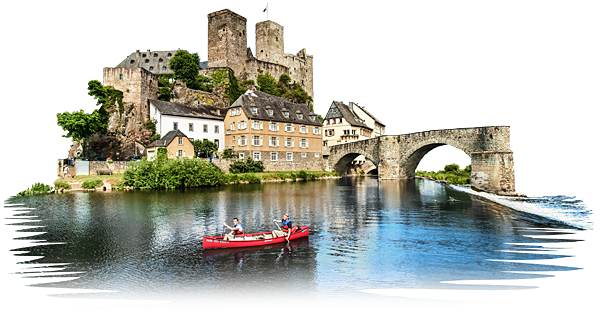 What makes the Lahn so special?
First of all the river is in its natural state through out most of its length and a diverse landscape with quaint villages on the river banks contribute to this wonderful experience. The Lahn has its source in the Rothaar Mountains and flows through the Hessian Mittelgebirge (low mountain range) Westerwald and Taunus until she reaches the mouth near Lahstein, where she becomes a tributary to the Rhine. She invites you to a journey full of wonderful experiences and discoveries. The Lahn flows through historically interesting towns such as Marburg, Gießen and Wetzlar, as well as Braunfels with its well known castle. Further downriver is the residence city Weilburg with Germany's only channel tunnel. Followed by the medieval castle in Runkel, the cathedral in Limburg and two towns of the house of Orange-Nassau, Diez and Nassau, not to forget the spa town Bad Ems. In the Lahntal you can easily combine culture with adventure holidays.
Well prepared for tourists.
You will find a very well established infrastructure for canoeists, cyclists and hikers. The Lahntalradweg was the first cycle trail in Germany awarded 4 stars by the German Cycle Association and still belongs to the 10 favourite trails overall. The Lahntalradweg received a makeover and since its completion in 2012, it is well equipped for all visitor's demands. You will find besides rustic country inns and charming city hotels close to the historic centres also campsites directly on the river banks. Furthermore offers Lahntours some special accommodations like an original Indian tipi village. You can reach the Lahntal quickly and easily by car or the train. It is only an hour away from the metropolitan areas of Frankfurt and Cologne and is therefore the ideal place for an active and varied vacation directly on your door steps away from all the daily stress.