Bicycle rental in the Lahntal
Rent a 7-speed touring bike or an e-bike for a ride on the Lahntalradweg. We have enough bicycles for you available to start a tour along the Lahn. We try to have a certain amount of bikes at our stations for spontaneous rentals, however for groups we recommend an early enough booking.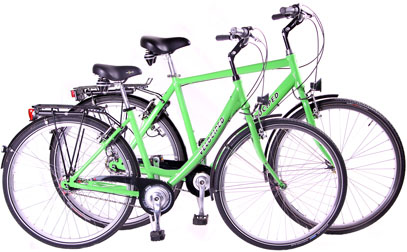 Our stations
Roth near Marburg
Wetzlar
Solms-Schohleck
Runkel
Rental prices for our touring bikes
€20 per rental bike and day (starting and ending at a Lahntours station)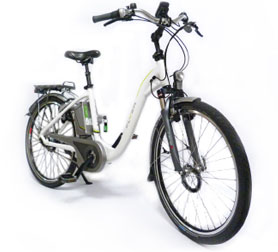 E-bikes at the Lahntal
With ease up the mountains and against the wind
Lahntours-Aktivreisen also offers bicycles with inbuilt electrical motor: The e-bike has an electronic drive from Vital Bike, which can be engaged or disengaged via a switch. That means you can use the motor only for hills and head wind or as a continuous aid. Apart from that you cycle as easy as with our other touring bikes. With the e-bike you are able to master longer and more strenuous tours without to exhaust yourself and therefore arrive relaxed at your destination.
Riding
The motor is linked to the rotational movement of the pedals, so that it only operates during pedaling. You pedal with the force you like - and get the motor support you need. When the engine is switched off, the electric bike works like a conventional bicycle. The speed with engine power is limited to 25 km / h; when you go faster, the engine switches off automatically (legal requirement).
Prices for our e-bikes
€245 per rental e-bike (Price package for our multi-day tours)