The Lahntours stations in the overview
Weimar-Roth - Lahntours Headquarters
Lahntours-Aktivreisen GmbH with their headquarters in Roth (between Marburg and Gießen) organises tours in the Lahntal since 1984. As the ''Travel operator for the whole Lahntal'' we provide plenty of options for our customers from canoe tours to cycling trips and even hiking holidays are possible. We see ourselves as the tour operator that combines nature-orientated travels with group experiences and like to reach all age groups. Learn more about us >>>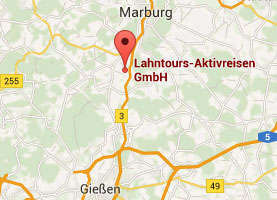 Wetzlar - Lahntours Canoe and Bicycle Station
Immediately after the second weir in Wetzlar with a view onto the cathedral and close to the old part of town you will find our canoe and bicycle station. If you like to try canoeing without committing to a long tour, you are here at the right place. At this section you can easily paddle up stream and down stream as you wish. After a short introduction into the techniques you can rent the boats by the hour which leaves you with plenty of time to discover Wetzlar afterwards. If you rather stay on dry land, no problem, we also offer bicycle rentals here.
Wetzlar is of course also an option to start or finish your tour. Directly next to our station is the Paulaner Biergarten located, which is a very inviting place for having a break. For company outings or group events we can organise a Bavarian evening as the conclusion of your Lahn experience. Enjoy with us canoes, culture and culinary delights on and at the Lahn river. Get a free quote today! >>>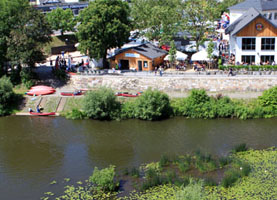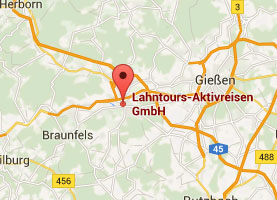 Solms-Schohleck - Lahntours Campsite
The campsite Schohleck is situated directly next to the Lahn between Wetzlar and Weilburg and the nearby climatic health resort Braunfels with its picturesque castle invites visitors for a stroll. The campsite is perfect for starting or finishing a tour, but you can also stay the night here, if you continue further. It has a big undeveloped grass area which gives schools and youth groups plenty of space. The original Indian tipi village is also very popular as an accommodation option. The tipis can host up to 6 people. Besides the canoe rental we also offer bicycles to discover the surroundings. There is a small kiosk with a cosy little Biergarten and beachbar on-site, where you can get drinks and small snacks. As one of their services you can get fresh bread rolls in the morning from them and with a little notice they are able to organise breakfast and BBQ buffets for the whole group. You like a little bit more comfort? We can help you with that, too. How about tables and benches or even cookware or a charcoal BBQ?
A highlight are the multiple campfire pits that are scattered around. On our campground you can enjoy a romantic campfire atmosphere directly next to the Lahn. Wood can be bought directly at our station. Further information about the campsite >>>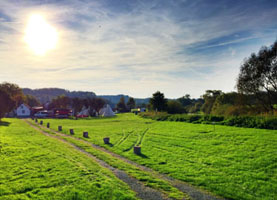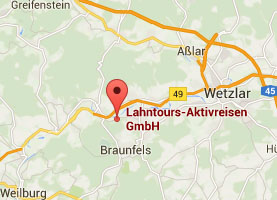 Villmar-Aumenau - Lahntours Canoe and Bicycle Station
Exactly between Weilburg and the picturesque town Runkel ist the canoe and bicycle station Villmar-Aumenau located. Here we do offer a bicycle transport to Runkel. Why not swap the bike for an afternoon and discover the Lahn from a different angle? When you arrive in Runkel you can collect your bicycles and gear there. You can start your canoe tour in Aumenau, but you can also use it for a break on your way from Weilburg to Runkel. The here located pirate's lair offers hot and cold refreshments and small snacks. For groups with more than 8 people we can organise a pirate picnic or a pirate BBQ buffet. For more fun we offer a pirate fight (only on request).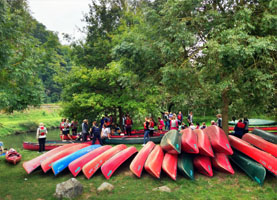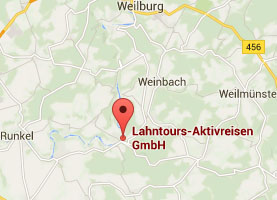 Runkel - Lahntours Campground
Our Lahntours campground is situated directly at the Lahn in the quaint village Runkel in between the forests Westerwald and Taunus. The nearby towns Limburg and Weilburg with their historic centres are both worth a visit. Same goes for the castle in the middle of Runkel. The spacious campground has a set aside area for our original Indian tipi village, where you can book 11, 8 and 6 bed tipis. For a real romantic campfire atmosphere you can buy wood on-site and use it in one of the many scattered fire pits. For the little ones we have a small playground next to the main building.
At Amuni (Pasta, Pizza & Vino) bistro with terrace you can quench your thirst and fill your stomach. The bistro offers besides original Italian cuisine from Sicily also BBQ buffets and breakfast in the morning. You like to cater for your own needs? There is a supermarket only a 2 min. walk away. You want to hang on some comfort? No problem, you can rent tables and benches, as well as cooking equipment and a charcoal BBQ from our office. Further Information about our campground >>>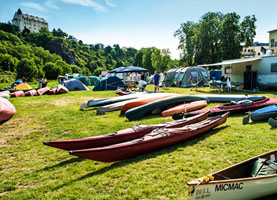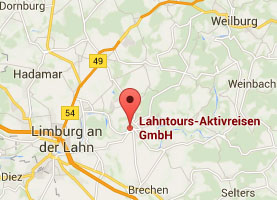 Diez - Kiosk with bike, canoe and pedal boat rental
At the Lahntours canoe and bicycle station in Diez you can as well rent padel boats for a spin on the Lahn. You find the station in between the two bridges over the Lahn. Here you can rent one of the 4-seater boats and discover one of the most beautiful sections of the Lahn. At the end of your little trip you can get some refreshments and a snack at the kiosk and enjoy the calming river scene in front of you. Our team in Diez is looking forward to see you there!
| | |
| --- | --- |
| Opening hours: | |
| Friday | 15 - 19 Uhr |
| Weekend | 11 - 19 Uhr |
| Holidays | 11 - 19 Uhr |
Further information is available and up to date in our booking and information centre under +49 6426 9280-0.
Padel boat reservations for groups with more than 25 people are possible under +49 6482 911022 or via email!
How to find the station in Diez with its canoe, padel boat and bicycle rental? Have a look into our map with all drop off locations, showing ''Diez''.